Eye test
With the AVA eye test to the best vision quality
---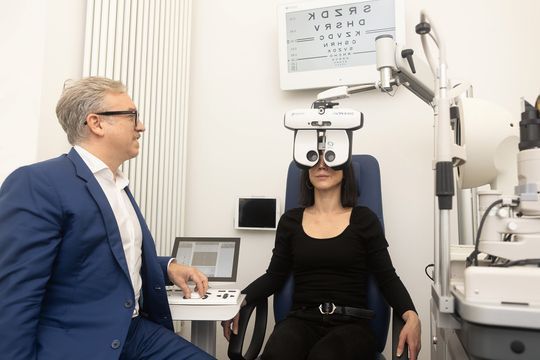 With the new AVA measuring method, we carry out the latest and most accurate measurement of your eyes that has ever been possible.
For your sharpest vision in every situation, our optician's shop is equipped with the Vision R-800. This is the world's first eye-testing device that uses a patented Swiss liquid lens system to measure with the highest precision. This allows us to determine your visual acuity in the finest gradation, independent of the 0.25 dioptre lenses. Thanks to this new measuring precision (AVA), we can adjust your lenses even more precisely with the Vision R-800. For even sharper visual impressions.
How to clean and handle horn-rimmed-glasses
Everything you need to know about genuine horn-rimmed glasses.
Genuine horn-rimmed glasses provide the wearer with a level of comfort
which cannot be compared with any other material.
---
Cleaning and handling
A clean microfibre cloth is the best way to clean your horn-rimmed glasses.
Should your glasses ever be affected by heavier dirt such as sand, limescale or dust, rinse them in lukewarm tap water and dry immediately with a dry microfibre cloth.
Important
Do not subject glasses with buffalo horn rims or wooden frames to any unusually heavy strain, such as wearing them in the sauna, leaving them on the dashboard of your car, working with powerful cleaning products or chemicals or exposing them to strong sunshine or prolonged sporting activities.
Please note!
Never use alcohol or products containing solvents to clean your glasses. These leach out the horn and may attack the wood finish, causing permanent damage to your glasses. Perfume
and cosmetic products also often contain alcohol or chemical substances which can have a detrimental effect on the lifespan of your glasses.
Crucial information!
Buffalo horn absorbs and discharges moisture from both the ambient atmosphere and our own bodies.
This interaction with moisture activates the ageing process. The more extreme the conditions, the faster the glasses will age. Tiny cracks may appear in the horn and the surface slowly takes on a more matt, greyish appearance. Wood can bleach and become discoloured where it comes into contact with the skin. These are normal signs of wear, not indications of poor quality.
---
Warranty & repair service
Glasses from Gautschi Optik - quality you want to be seen in
You will be totally satisfied with your glasses from Gautschi Optik.
All of our branded glasses are of the highest quality and offer the best compatibility. That is why we can guarantee that you will get used to them quickly and smoothly.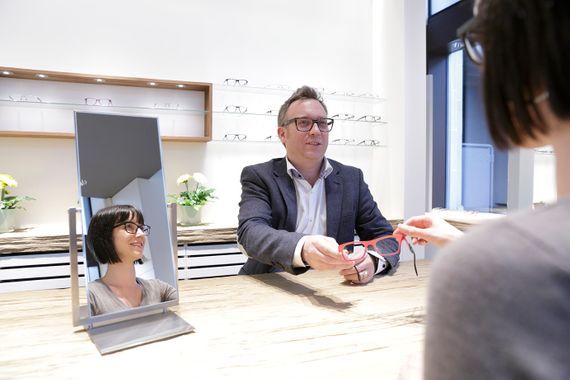 ---
Compatibility guarantee
If you cannot get used to your new glasses, we will replace them with other, more suitable glasses, up to six months after purchase.
New: lens coating warranty
Should there be a manufacturing defect, we will replace your glasses with identical ones free of charge, up to 36 months after purchase. This is a guarantee of the durability and functionality of the anti-reflection coating.
Alignment and cleaning service
Your Gautschi glasses should always look good. So feel free to bring in your glasses for the free Gautschi Optik Service from time to time. We check all the screws, bring the old shine back to your glasses in an ultrasonic cleaning bath and check their geometry. Seize the chance. It's worth it!
Spectacle frame warranty
A quality frame should keep its shine. You have two years warranty on the colour coating. Within this period, in the event of a break due to a weakness we will replace the whole frame or the defective part.
Insure your new glasses with us at replacement value for 3 years.
For as little as 25 to 45 euros per year, your glasses are insured against all forms of damage at replacement value.
(Excluded are heat effects on the lenses).
---
Repair service
We repair all glasses as quickly as possible
---
Metal glasses
Broken metal glasses can be repaired. The defective part is joined up again by soldering. It is also possible to grind the existing lenses into a new frame.
Plastic frames
Your plastic glasses are broken in two. Depending on the material, we can join the fractured parts together. For this type of repair we need your glasses for 24 hours. It is also possible to grind the existing lenses into a new frame.
Titanium glasses
Because of the special properties of titanium, this material can only be soldered in a protective gas atmosphere. For this type of repair we need your glasses for 2-3 days. We offer a one year warranty for this quality repair.
Drilled glasses / pinhole glasses / rimless glasses
If such glasses are defective, a part can be replaced if need be. This requires us to assess the frame in order to determine how to repair it.
Wooden Glasses
Wooden glasses can be repaired too. The defective point is joined together again with a special adhesive, machined and resealed. For this type of repair we need two days.
Horn-rimmed glasses
A good knowledge of the material is needed to professionally repair horn-rimmed glasses, This work is carried out by a horn specialist at his studio here in Zurich. Depending on the damage, the material can be joined again or repaired using new natural horn. We also recommend that you have your glasses refreshed every one to two years so that they keep their shine and flexibility.
---